An action-packed 2019 for Cycling and Walking
Get On The Go is a useful free resource that helps you save money, time and hassle while you travel in Perth & Kinross, Dundee & Angus. It's the go-to place for news and updates about smart, sustainable and active travel. 
 2019 was an action-packed, successful year for sustainable and active travel across the three regions. In the first of our 2020 blogs, we take a look back and bring you Cycling and Walking highlights from Get On The Go.
 For regular updates, follow Get On The Go on Twitter and Facebook.
Get On The Go Cycling highlights in 2019
Catch up with a councillor on a cycle
Have you ever chatted to your local councillor while on the move? In 2019, Arbroath independent councillor Lois Speed came up with an innovative way to chat to local residents about sustainable travel – on a bike! Lois hopes that a gentle cycle around Arbroath will free up thinking around sustainable transport and other local issues. "My idea is to operate a sort of cycle surgery for people to either come and bike with me, or on a tandem," said Ms Speed. "We get out in the fresh air, have a bit of fun and chew the fat on issues that matter to them. I want to try to get people to turn away from the car as the only means of getting around and to promote active travel. Cycling allows you to see things through a different lens when you are out there, interacting differently with the local environment."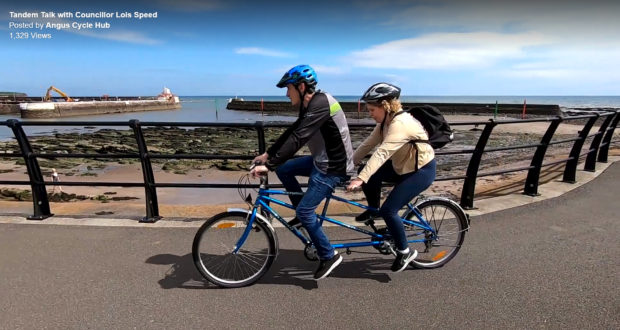 Have you tried a Social Cycle?
Social Cycle is an exciting new project in Perth that encourages people to try cycling and see if they like it. Jenny Rogers, Community Outreach Officer at The Bike Station, Perth, explains how it came about. "Sometimes people are reluctant to buy a bike because they don't know how much they'll use it or how much to spend. We designed the Social Cycle project to address these barriers, and to encourage and support people to keep riding." 
"We help people to borrow a recycled bike from our loan selection," says Jenny, "that suits the sort of cycling they want to do. We also provide advice on suggested routes. At the end of the bike loan they're more likely to know whether they'd like to buy a bike." As well as bike loans, Social Cycle also organises guided rides to explore cycle routes around Perth with a friendly group – ideal for building confidence. The popular project was set up in 2019 and there's been great feedback from loan scheme participants.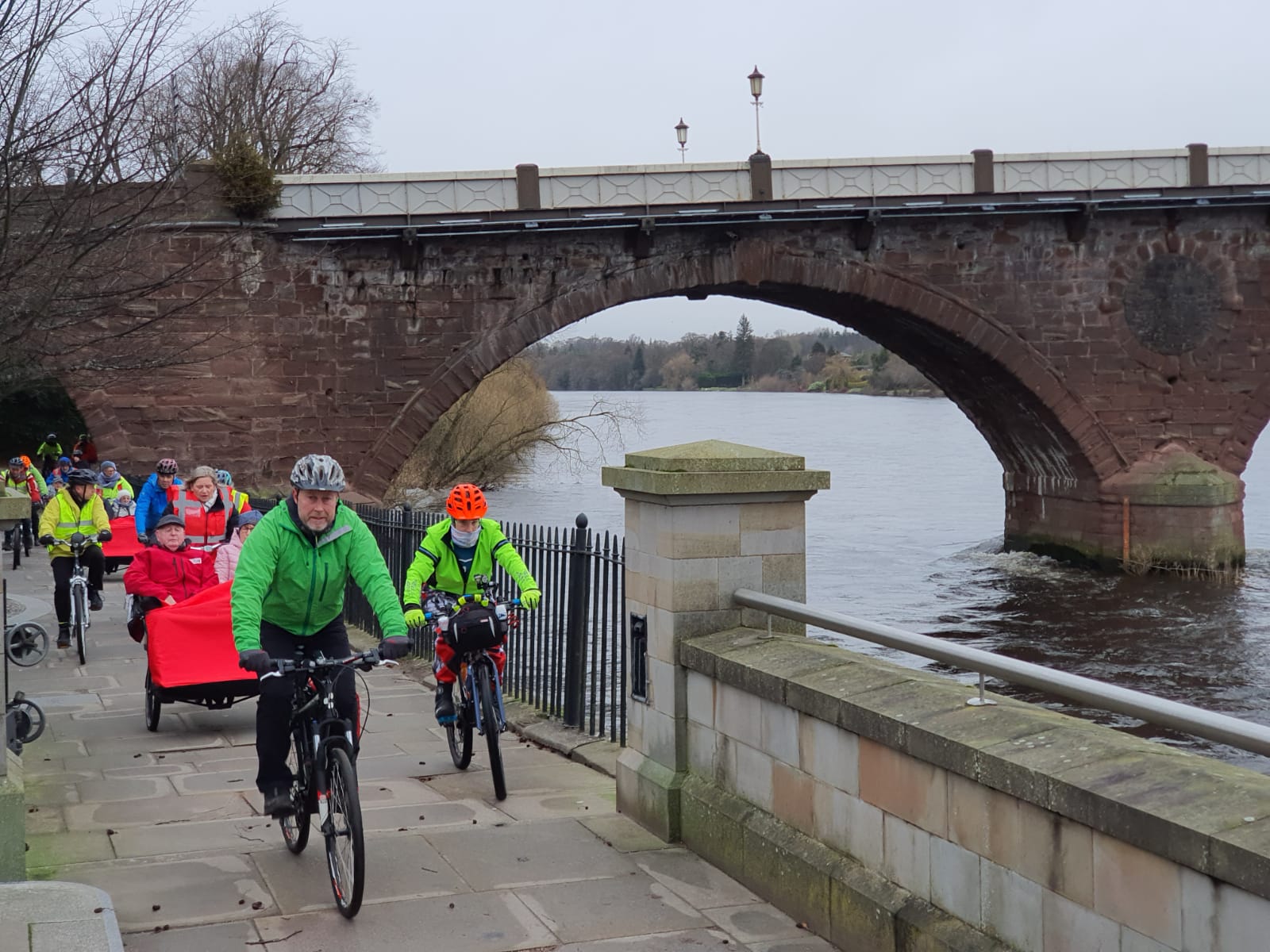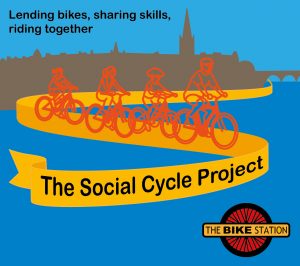 Perth residents over 16 can borrow a bike between now and the end of March, or they can bring their own bikes to Dr Bike, the bike-fixing service provided by Bike Station, to help them get back on the road if they've not been used for a while. If you'd like to help with the guided rides, or with checking and fixing bikes, driving or working on the Bike Station shop floor, Social Cycle would love to hear from you. 

Find out more about Social Cycle on The Bike Station website or on Twitter.
Coupar Angus Cycling Hub
2019 was another successful year for Coupar Angus Cycling Hub, which runs many cycling events through the year to inform and excite people about cycling. The hub, which started life in 2013 with the publishing of a guidebook of local cycle routes, is a not-for-profit organisation that uses funding sources and income from its bike shop, Pumptrack hire and events to keep people in jobs and help to sustain cycling develop in and around Coupar Angus. The events they organise and support include Cycle for Cake, Sunday Cycles, an after-school cycling club and "Belles and Buns", a women-only cycling day with three route options and cake served at the end
You can follow Coupar Angus Cycling Hub on Facebook or visit their website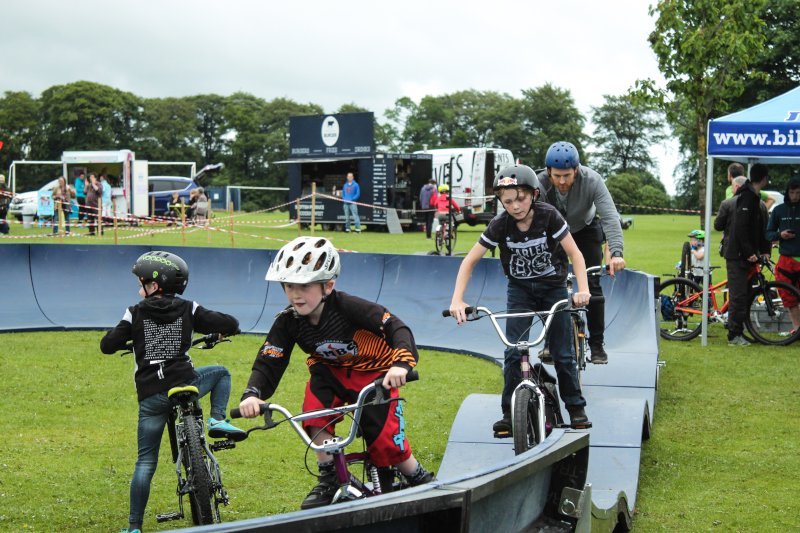 New cycling "furniture" in Perth
If you're a regular visitor to Perthshire's towns and cities you may have spotted bright, colourful and cheerful cycle racks and hoops popping up in some of our towns. These new bike racks are providing dozens more spaces for cyclists to park their bikes securely, and offer a real alternative to car parking. There are new public cycle hoops at the following locations:
Mill Street, Perth, outside Perth Theatre and Boots

Murray Street, Perth opposite the Playhouse Cinema

Wellmeadow, Blairgowrie, opposite the public toilets

James Square, Crieff, opposite the public toilets

High Street, Coupar Angus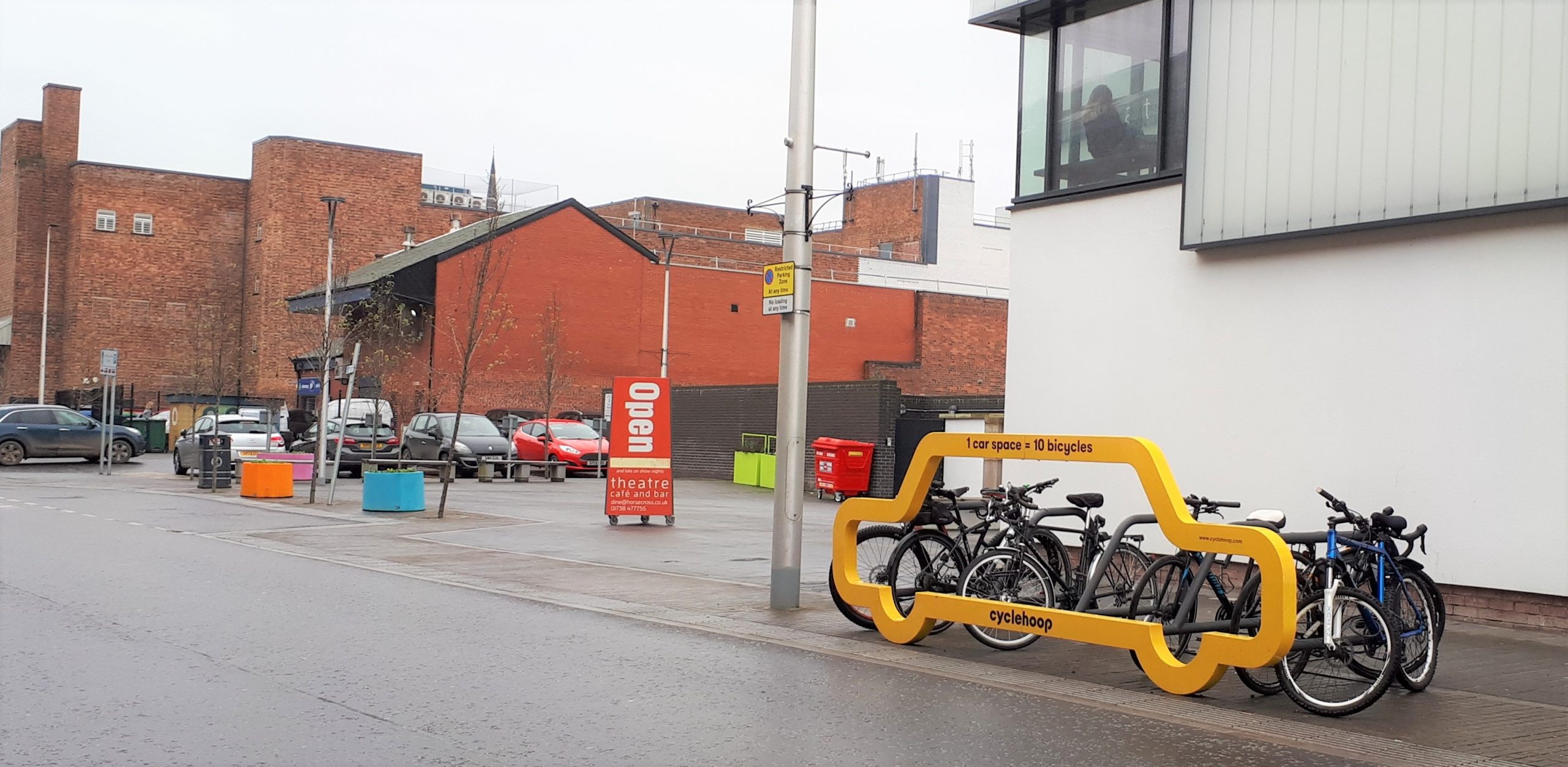 Cycling doctors in Dundee
Two new bikes have been made available for all staff at a medical hub in Dundee, thanks to a new and exciting initiative that took shape in 2019. Whitfield GP Surgery hopes that the new bikes will help staff stay healthy and inspire patients to engage in cycling. Dr Viola Marx, Green Health Partnership Coordinator in Dundee, says, "When the bikes are in place, the staff, including the GPs, will be able to use them for commuting to work and to other locations. Cycling for work is a chance to use the time that they would spend in a car to be active. It increases their physical activity levels and helps to reduce stress levels. The medical staff also has the chance to be role models for the community."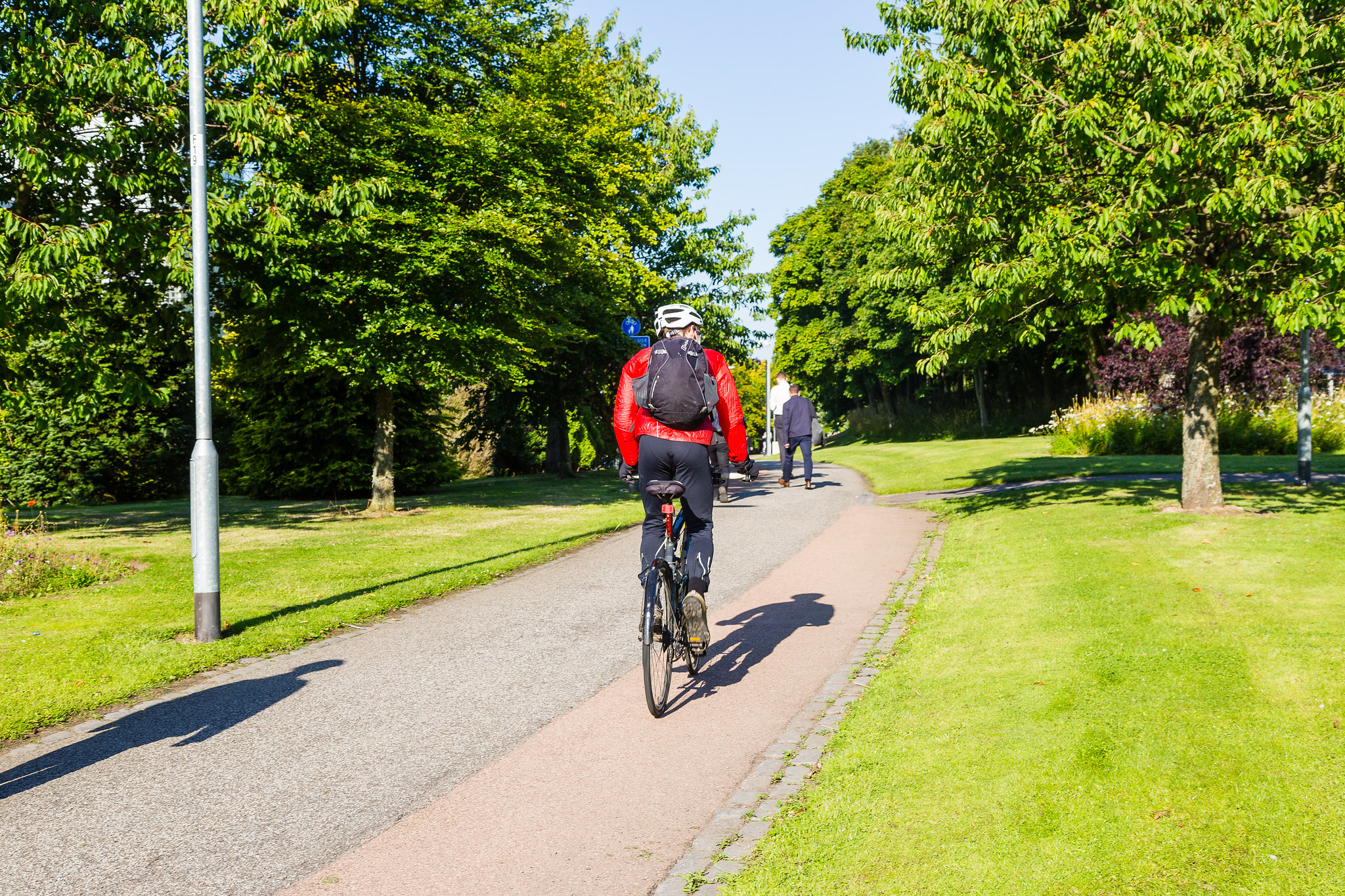 ReDiscover Dundee – by bike or trike
If you haven't been on a bike for a long time (or ever!), or you have health conditions, the thought of cycling can be daunting. 
ReDiscover Dundee is an innovative local cycling project which really took off in 2019. It enables people who have barriers to physical activity to enjoy cycling on eBikes or eTrikes. Focusing on the ageing population facing inactivity and isolation, the project enables people to join in guided rides to stay active and rediscover the local greenspaces.

Dr Viola Marx, Green Health Partnership Coordinator in Dundee, says, "We have eight eTrikes, two electric bikes and one trailer for people to try. Through ReDiscover Dundee we're targeting people with mobility issues and those who aren't confident on bikes or who haven't cycled before. We're supporting inactive citizens to become active. The fact the bikes are electric is great, particularly as Dundee has a lot of hills!"
If you're interested in trying an electric bike or trike, you can book on the number below. Participants can also sign up to ReDiscover Dundee through a Green Health Prescription, which involves GPs prescribing healthy pursuits and time in green spaces as an alternative or complement to medical treatment. People can borrow them as community bikes, too.

Re-Discover Dundee is managed by Volunteer Dundee, with the support of Dundee Voluntary Action, the Dundee Green Health Partnership and funding from Energy Saving Trust. Contact [email protected] or call 01382 305757.
Get on your bike!
If you're inspired to get cycling, start commuting by bike, or explore new routes, follow Get On The Go for all the latest chat and news. Make 2020 the year you get on two wheels!
Get On The Go Walking wins in 2019
Get Into Walking & Cycling in Angus
When Angus Council wanted to learn more about people's commutes to work and school, they asked Angus Cycle Hub to set up a project to find out what the barriers were to active and sustainable travel, and how to help people make different travel choices. 
The project is supported through Smarter Choices Smarter Places, which is a Paths for All programme funded by Transport Scotland. Scott Francis, a director at Angus Cycle Hub, explains what has been achieved so far. 
"Many Friockheim residents said they'd love to be able to cycle to Arbroath but there are a couple of major quarries in the area and lots of HGV traffic. So we've set up a full feasibility study with Angus Council about joining up two sections of the core paths." This should result in six miles of off-road cycle paths joining Friockheim to local hamlets and then on to Arbroath. It also means that residents in the small communities can access services in Friockheim by walking or cycling.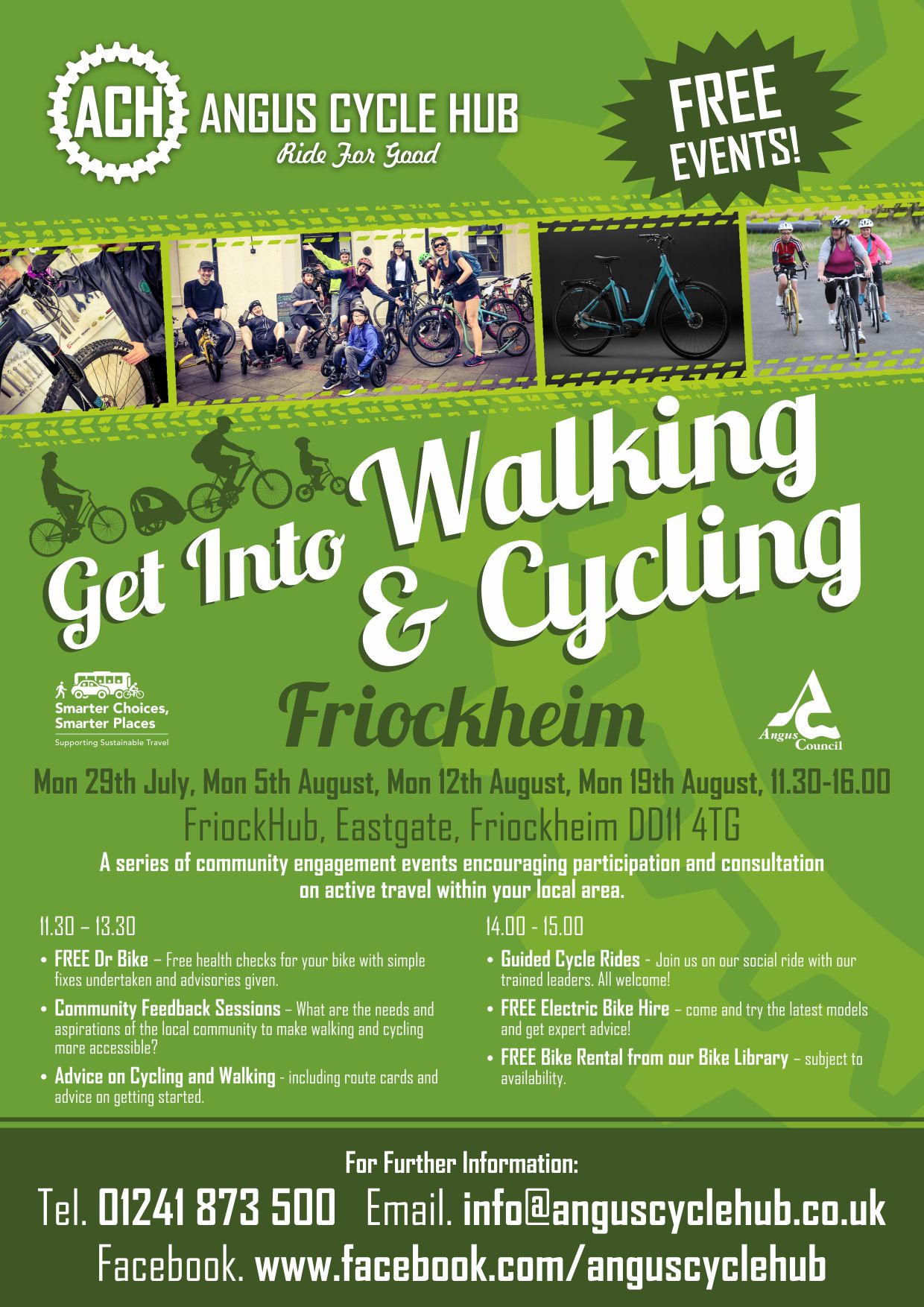 Angus Cycle Hub will also be working with Angus Council on the installation of new cycle shelters around Arbroath.
You can follow or contact Angus Cycle Hub on Facebook or email [email protected] for information on this project and active travel in the Angus region.
New accessible Provost Walk path in Auchterarder
2019 was the year that the final phase of Provost Walk path in Auchterarder was opened,  completing a safe walking and cycling path through beautiful Perthshire countryside. The £945,000 Provost Walk project, managed by Perth & Kinross Countryside Trust, upgraded a virtually impassable, muddy and uneven track to a modern, multi-user path suitable for walkers, cyclists and wheelchairs.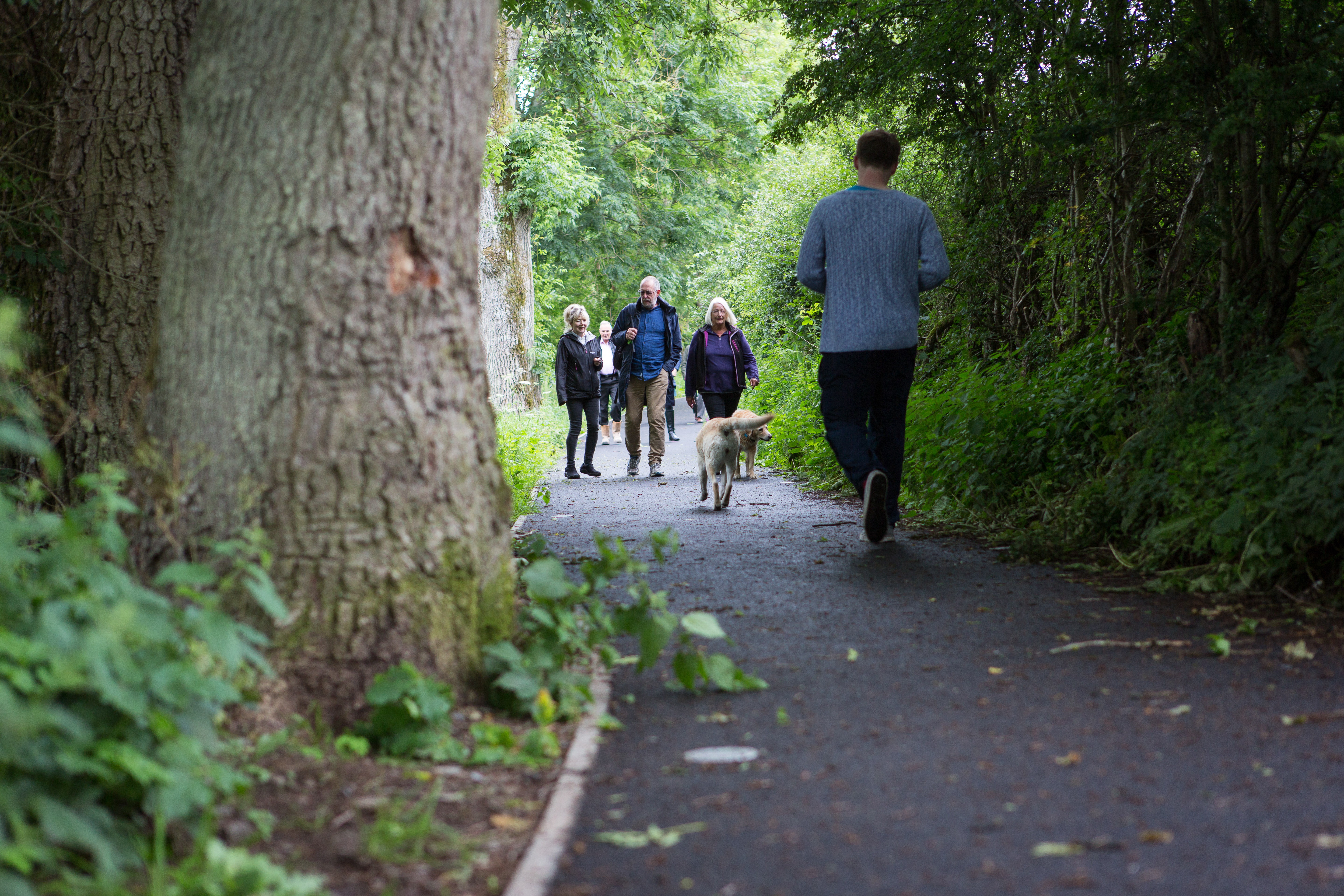 Earn Mi Rewards for walking or cycling
Mi Rewards is the loyalty programme that gives you points, perks and prizes when you shop at local businesses or travel on Stagecoach buses. But did you know you can also earn points for walking and cycling?
All you need to do is download the Mi Rewards app for iPhone or Android, activate the mobility settings and walk, cycle or wheelchair into Perth city centre. You'll automatically earn points, feel great and help Perth to become a greener healthier place!

Walking to Angus schools
To encourage kids (and their parents) to make healthier travel choices, Angus Council set up a project with nine schools called WOW – Walk One day a Week – which has proved successful overall and, in fact, has turned into a competition between the schools!
Lesley Cook, School Travel Co-ordinator for Angus Council, manages the project, which is supported through Smarter Choices Smarter Places, a Paths for All programme funded by Transport Scotland. "We are also currently running the Park Smarter initiative for P4 to P7 in four of our schools. It's about getting the kids to take the message home to parents to park in better locations. So instead of getting dropped off right at the gate or car park, the kids are getting to Park & Stride, and that means there will be more safe places to cross the road."
Get walking for a healthy new you!
If you're inspired to get walking, are looking for accessible paths, or would like to explore new routes with friends and family, follow Get On The Go for all the latest chat and news. Make 2020 the year you get out more by foot!